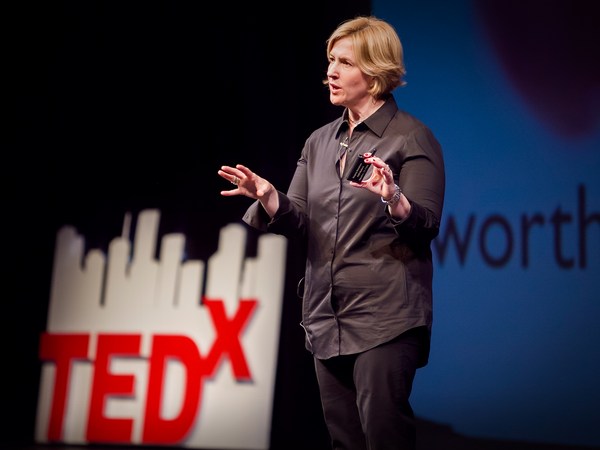 I was watching Brené Brown's Netflix special* last night and she told the story of her very popular TED talk...
...so firstly it was actually a TEDx talk (not the same at all no matter what people might hint at or where they stand in front of TEDx sign ?) and it was also at a place she had lectured at before and where she knew a third of the audience. She went there after doing 4 days of work in a corporate where she'd been challenging leaders to be more vulnerable. So challenged by her own research - she took a risk too and ditched her normal academic research style and she chose not to hide in her comfort zone. She decided on the flight back home from the corporate event to do something different this time, to take a risk herself and share more of herself and tell more personal stories. It was a big risk.
That video was recorded in front of just 300 people in her hometown and she hoped it would just sink without a trace... it has now been watched by almost 44 million people!!
Sometimes when we present we have to get out of our comfort zone and take some calculated risks, the main one being vulnerability.
Why do we see so many boring talks still?
Well, the more I do the Presentation Skills part of my job I'm convinced that delivering dull talks is more to do with anxiety, self-esteem, confidence and the fear of what others will say than actual stagecraft. Not taking risks on being ourselves can often hold us back.
Join me in January to help you find your voice, book now to get the early bird rate:
Businesses/Organisations: https://www.eventbrite.co.uk/e/76235102243
Third Sector/Faith sector: https://www.eventbrite.co.uk/e/76256891415
"I attended a fabulous workshop led by Lee. He is a very authentic speaker, warm, funny and very much himself. It was a great session which taught us to think differently about how we use our slides and the way we use story to express ideas. I highly recommend Lee to anyone who wants to improve their presenting skills."
University of Derby
*Brene's Trailer: https://www.youtube.com/watch?v=gr-WvA7uFDQ
*Netflix direct link: https://www.youtube.com/redirect?redir_token=WhZ721MinoRRnoRlm9qn4-O7wUV8MTU3MTEzMzMwMkAxNTcxMDQ2OTAy&event=video_description&v=gr-WvA7uFDQ&q=https%3A%2F%2Fwww.netflix.com%2Ftitle%2F81010166